Description
Looking for a Safe & Reliable Ethernet Cable? Look No Further!
Our CAT6 Plenum (CMP) Ethernet cable is designed for reliable indoor installations requiring cable installation in plenum areas. It features a solid bare copper conductor with a high-precision Big Mouth Payout hole that ensures a problem-free pull by eliminating knots, kinks, tangles, and snags. Additionally, the cable is jacketed with a fire-retardant plenum-rated jacket made of Flame Retardant PVC, making it suitable for areas with airflow and preventing flame propagation in the event of a fire.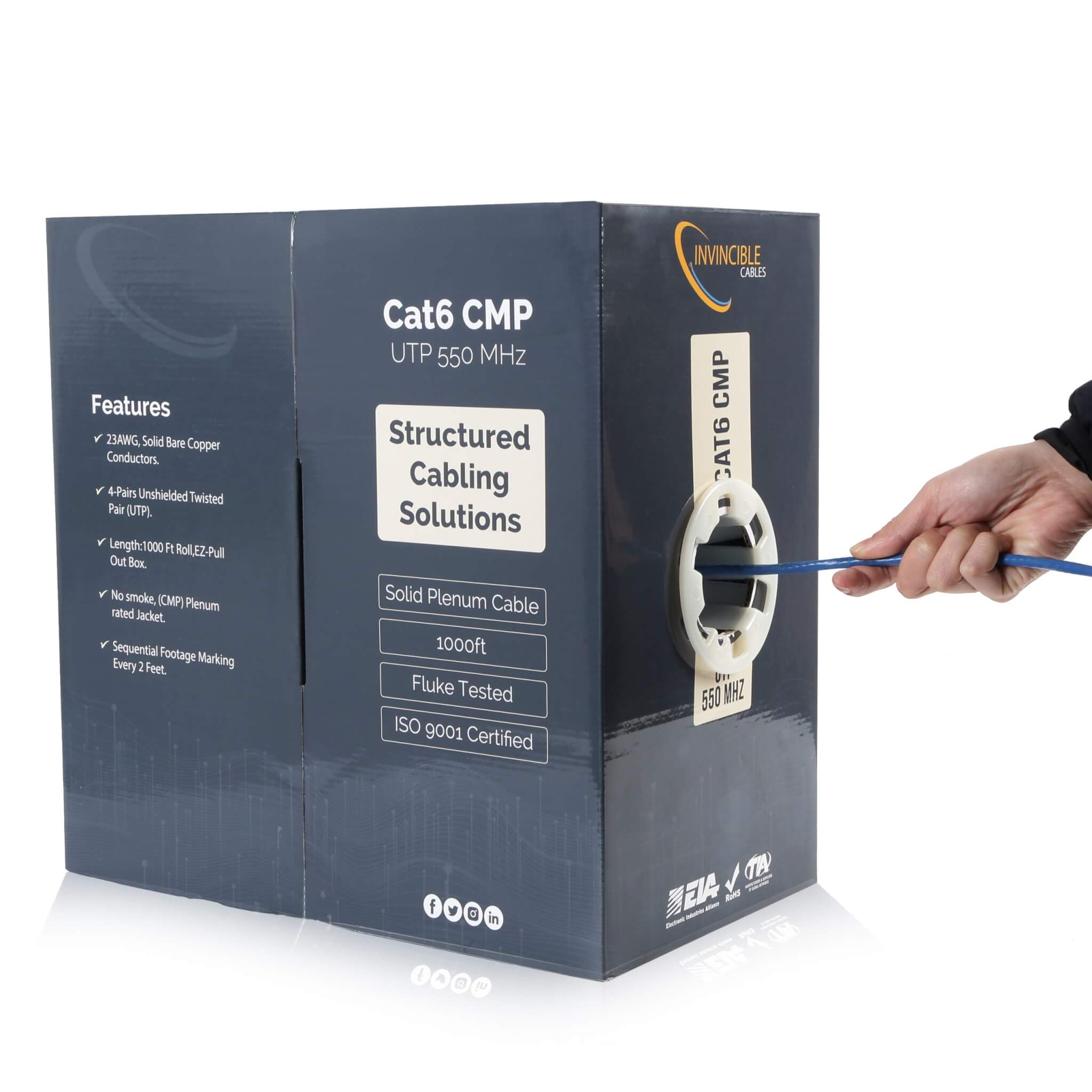 Connector Type: RJ45
Cable type: Ethernet
Compatible devices: Server, Router, Modem, Mounted Rack, Patch Panel, Laptop, PC
Brand: Invincible Cables
Specifications met: EIA, ANSI, TIA, ROHS
Product Dimensions: 16.3 x 9.4 x 16.9 (cm)
Product Weight: 27 lbs. (12.25 kilograms approximately)
Model Number: CAT6-IC-Solid Copper
Manufacturer: Invincible Cables
Cable Length: 1000 Feet (304 meters approximately)
Colour: Black, Blue, White
The Choice of Champions:
Why Our Cables Lead the Pack
Invincible Cables is your ultimate solution for optimizing your network performance. Our CAT 6 cables are crafted with precision and adhere to stringent quality standards.
Tested up to 550MHz, INVINCIBLE CABLES Cat6 plenum-rated Ethernet cable is designed for Gigabit Ethernet applications and performs at high data transfer rates. It also complies with building inspections and codes, ensuring safe and reliable installation. The cable also has a crosstalk suppression spline for clean signals and improved heat dissipation for PoE.
Industry's Most Accredited Cable
Trust the safety and reliability of INVINCIBLE CABLES Cat6 plenum-rated Ethernet cable for all your networking needs. A bulk cable manufacturer with all necessary performance and environmental accreditation manufactures this cable. It also complies with building inspections and codes, ensuring safe and reliable installation.
Don't settle for anything less. All of our data cables have been rigorously tested in strict adherence with a Fluke Cable Analyzer and comply with ANSI/TIA 568.2-D standards, and are RoHS-3 compliant, Backed by FOREVER WARRANTY for your peace of mind and long-term investment
Cat6 plenum-rated Ethernet cable comes in a tangle-free, easy pull box packaging, making installation easier. It also features easily identifiable color-striped 4-pair UTP (Unshielded Twisted Pair) and sequential footage markings for usage tracking.

Discover what our satisfied customers have to say about Invincible Cables in our Testimonial Section. Real people, real experiences!
I upgraded to CAT 6 internet cables from Invincible Cables, and my online work has never been smoother. Fast and reliable connection, plus durable build!
Sarah Thompson
Los Angeles, CA
Invincible Cables' CAT 6 cables transformed my gaming experience - no more lag, just seamless gameplay. Highly recommended!
John Matthews
New York, NY
Invincible Cables delivers top-notch CAT 6 cables. Our clients are impressed with the improved network performance. Great customer service too!
David Ramirez
Houston, TX